🎁(BUY 2 GET 10% OFF)🎁The World's First Smart Emoji Device

Visibility
Day or night, low-light or super-bright light. Everyone will be able to see Mojipic. It's bright enough to be seen, without being blinding.
Voice Control

The voice control function enables you to display images without being distracted on the road, by simply using a voice command, which makes driving easier and safe.
Express Yourself
More than 1500 GIFs, Smiles & Emojis. Baseball Teams, NFL, NBA, NHL, Soccer, flags of countries, national symbols and more.
Get creative
Want to really get creative? Use your phone to create your own unique art. Then use Mojipic to display it to the world!
Drawing in Realtime
8-Bit Games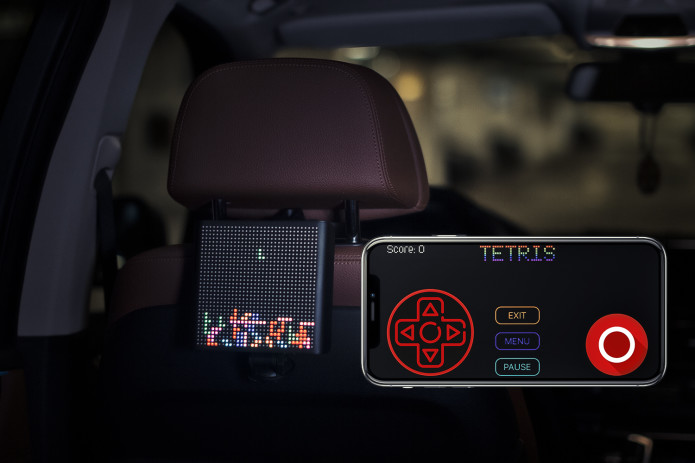 8-Bit games are built into the application, which are displayed on the Led Display, and the phone becomes a gamepad.
Generate QR-Code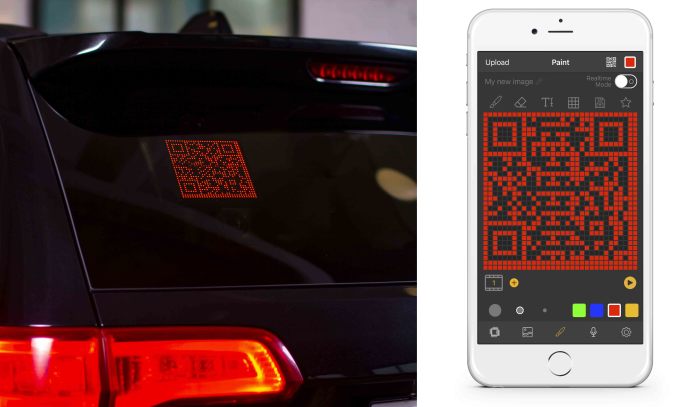 Want to share your story? Your business? or you just want an easy way to exchange your details with the love of your life while you drive? QR codes will help you share in seconds. 
Emojis and GIFs
You can display static emojis and animation images (GIFs) 

For Sport Fans ⛹‍♂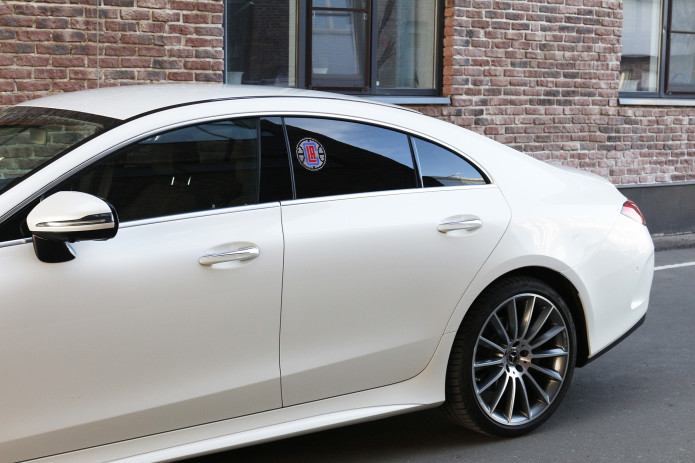 Show your love for your team by displaying your badge on Mojipic. Perfect for the journey to the game. Even better for tailgating! Baseball, NFL, NBA, NHL, Soccer and more.
For Fun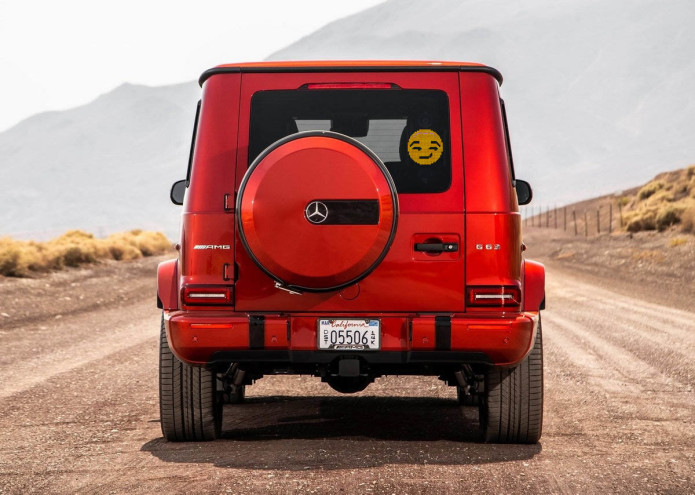 What better way to say thank you to that kind driver who let you out than a smiley emoji? Or use an angry face to tell that tailgater to back off! 
Social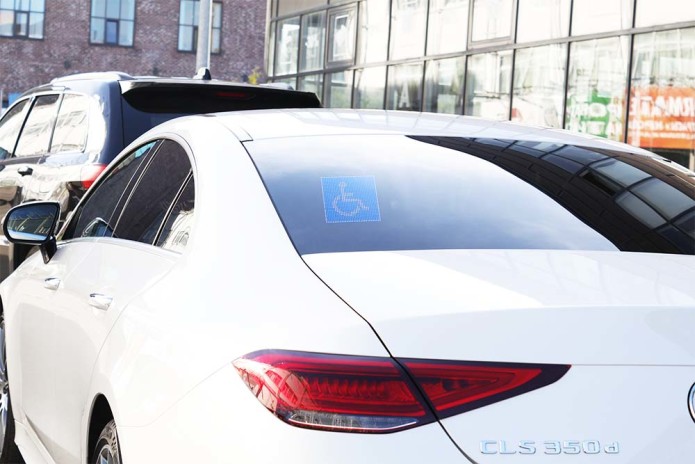 Display QR codes to link to your Facebook, Twitter or Instagram.
For Taxi Drivers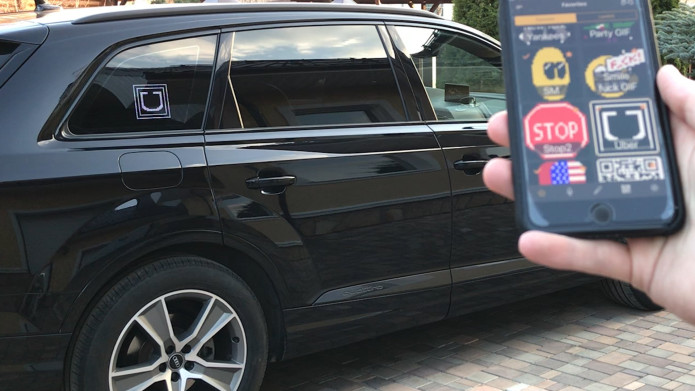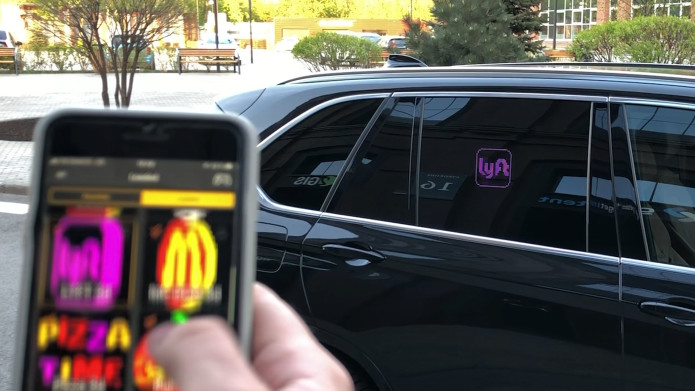 If you drive for Uber, Lyft or any other taxi service, use Mojipic to make it easy for your customers to find you. Display their name on your window.
For Home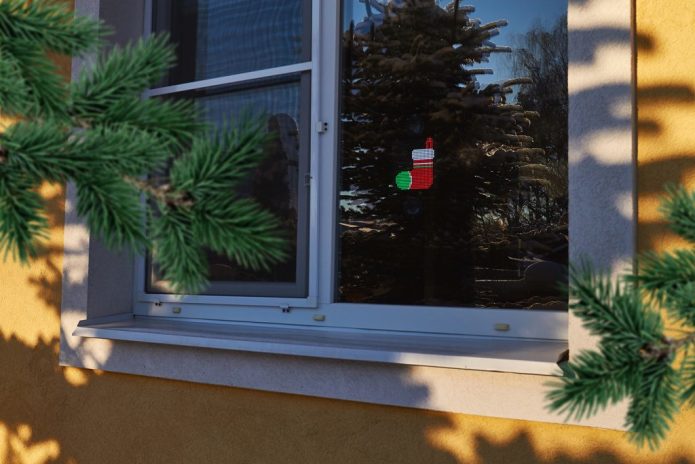 Mojipic isn't just for the car. Use Mojipic to brighten up your home, use it to warn cold callers, criminals or just to celebrate a holiday!
For Business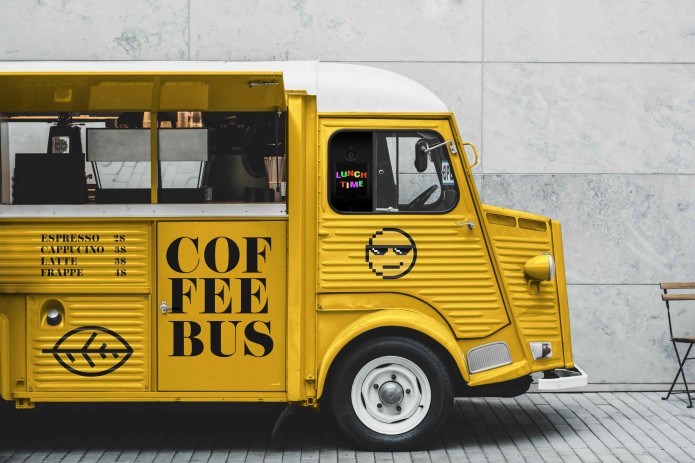 Use Mojipic to advertise your business as you drive. Or display Mojipic in your shop or café. Use QR codes to share discount vouchers.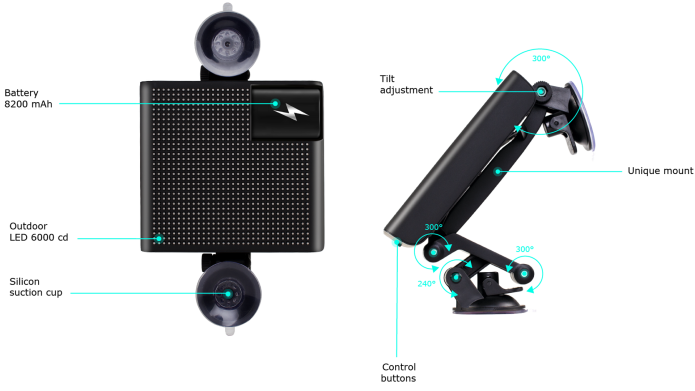 Display
6000 Cd outdoor LEDs. 32x32p.
Battery
8200 mAh. High-quality Li-Pol rechargeable battery
Power
Car Charger. Onboard car power 12V maximum power consumption 4А (At maximum brightness in white)
Dimensions
Device: 140x153x27mm / 5,5 x 6 x 1 in 
Mount: 258x54mm  / 10.1 x 2,1 in
Wireless Control
BLE 4.0 (Bluetooth Low Energy)
Temperature
Operating Range -25+60c / 13-140F
In Box
Mojipic Device
Car plag-in (lenth 5 meters)
Mount
Manual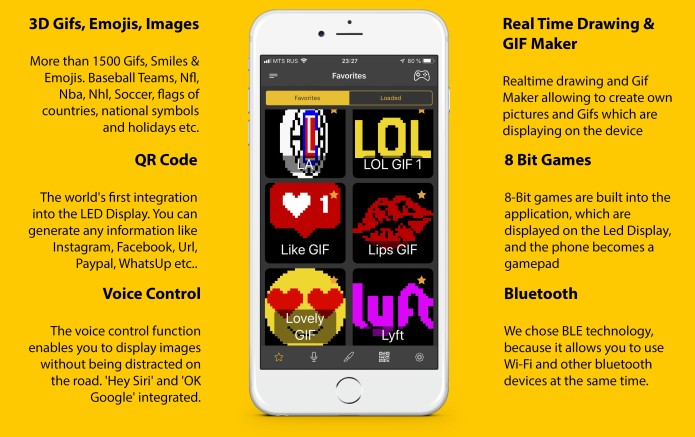 All Apps features
Catalog more than 1500 gifs. We update the catalog every week.
Several devices in one app at the same time
Drawing in Real-time
Drawing! while the device is working, you can draw something and save your image to the catalog.
Upload your own design and customize. Upload from URL link or from your phone library
Gif maker - create animated videos right in Mojipic App
Brightness control
Time out control for the device (if connect lost)
Glow mode. Constant or ask yourself how many seconds the picture on the device glows.
Siri control and Ok Google control
Synchronization. If you connected a new device. You can run full device sync. So that the app knows all the settings of the device and the files loaded into it.